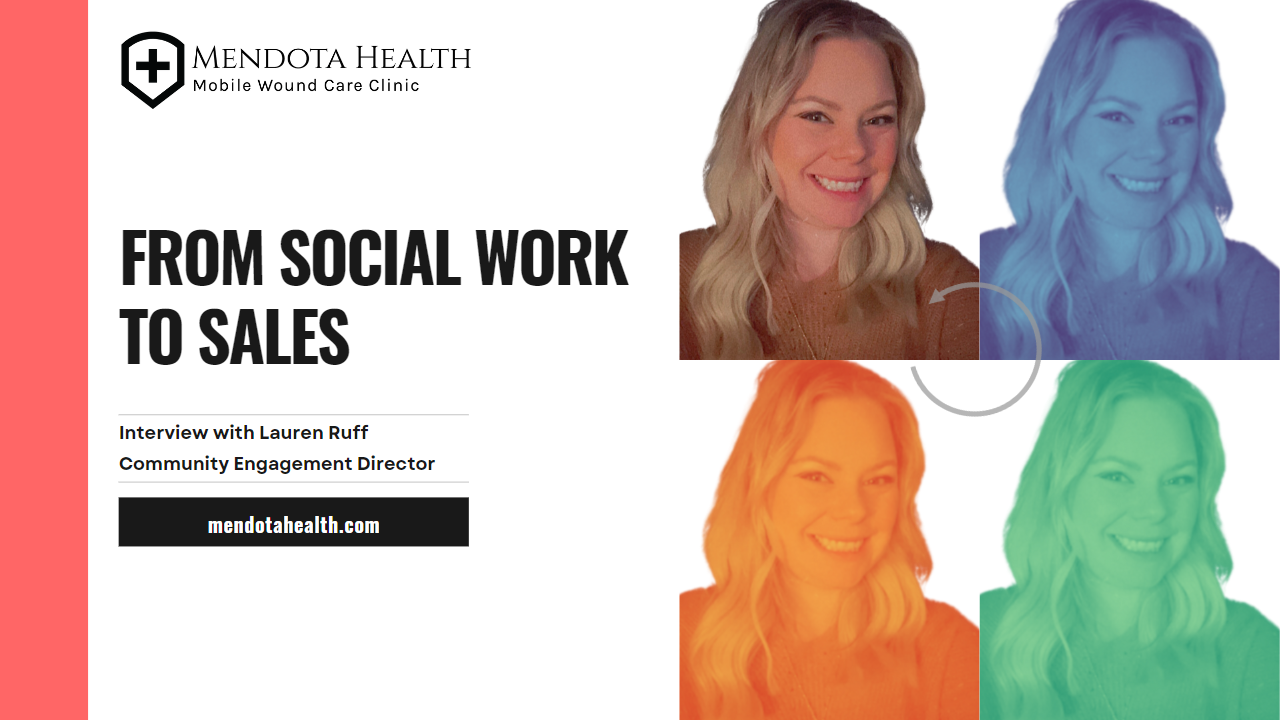 09 May

From Social Work to Sales

This is an interview with Lauren Ruff who is a Community Engagement Director at Mendota Health. 
How did you go from social work to sales?
I always knew I enjoyed helping people and I knew I didn't want to be a nurse. I honestly wanted to be a dental hygienist since I was a little girl. But the dental hygienist program in college just wasn't for me. My guidance counselor suggested I look into a human service degree and that is when I found social work.
I eventually moved from social work to different positions in an assisted living community including doing marketing and admissions. I was working there when COVID hit. And we were hit right away and really hard. We had 60 positive patients at one time. I ended up having to cover roles because people just were not showing up for work. I ended up feeding and bathing residents because if I didn't no one else was there to do it.  Meanwhile I had a three-month year old at home. It was an incredibly challenging time.
That experience really impacted me and ultimately led me to finding a position with a home health agency. After 2 ½ years in home health, one of my long-time partners in my market told me about Mendota Health and what a great company it is. When a Community Engagement position opened up south of Chicago, I jumped on it.
I still feel like I do a lot of social work in my role now as a Community Engagement Director for Mendota Health because you go to the hospital and you meet with the patient, you meet with the family members, and you're helping coordinate care the whole way. So, I feel like my social work roots are always with me.  
Why did you choose Mendota Health?
I thought bringing advanced wound care into the home was a great concept! Working in home health I just saw the need for it. Our nurses were all wound care certified, but they still could not provide the advanced wound care services that Mendota Health could. While I was still in home health, I would go into buildings all the time and follow up with patients and see how everything was going. Everybody raved about Mendota Health and the services they provided. Those reactions drew me to it, seemed like everybody was super happy with the service. Mendota Health is groundbreaking. Our model of bringing advanced wound care into the home is the future of wound care.  
You own your territory, what does that mean to you?
I am the face of Mendota Health in my area. So, it is important for me to be authentic and honest as I build relationships with our partners. I wouldn't work for somewhere that I don't believe in what I'm selling. I was very close with my grandpa; he was basically my dad. And so, I look at all our patients and think about if they were my grandparent, how would I want them to be cared for? Every patient is someone's mom, dad, or loved one. I would want the best for my loved ones, so I also expect this in myself and the organization I work for. I like that I'm working for a company that provides the best care they can.
How does your social work background impact your work with Mendota Health?
I don't even think of myself as a salesperson, I think of myself as a relationship builder. You're always kind of interviewing people and that's a huge part of my professional background from social work. Having positive good nonverbal communication is also an important skill. I really attribute my ability to build relationships to my social work background. I am the type of person that people reach out to. And no matter what the problem is, if I can't solve it, I will figure out who can. I am always connecting people with services and that's one of the main things a social worker does. I am always trying to provide a solution. When I get a referral we can't take, I try to connect that patient with another agency who can help them. This has made me a go to person in my territory. People know they can reach out to me and I will always try to help them out.
What is the impact of your work?
I mean people get their life back. They're able to do things like shower on their own. Things like this are things we take for granted. Wounds prevent people from enjoying their life. It prevents people from taking a bus to go out to activities. When we heal their wound, they're able to go out now, get back to the things they love to do. People might look at these and just see every day simple things, but I mean these are like life changing measures for people.