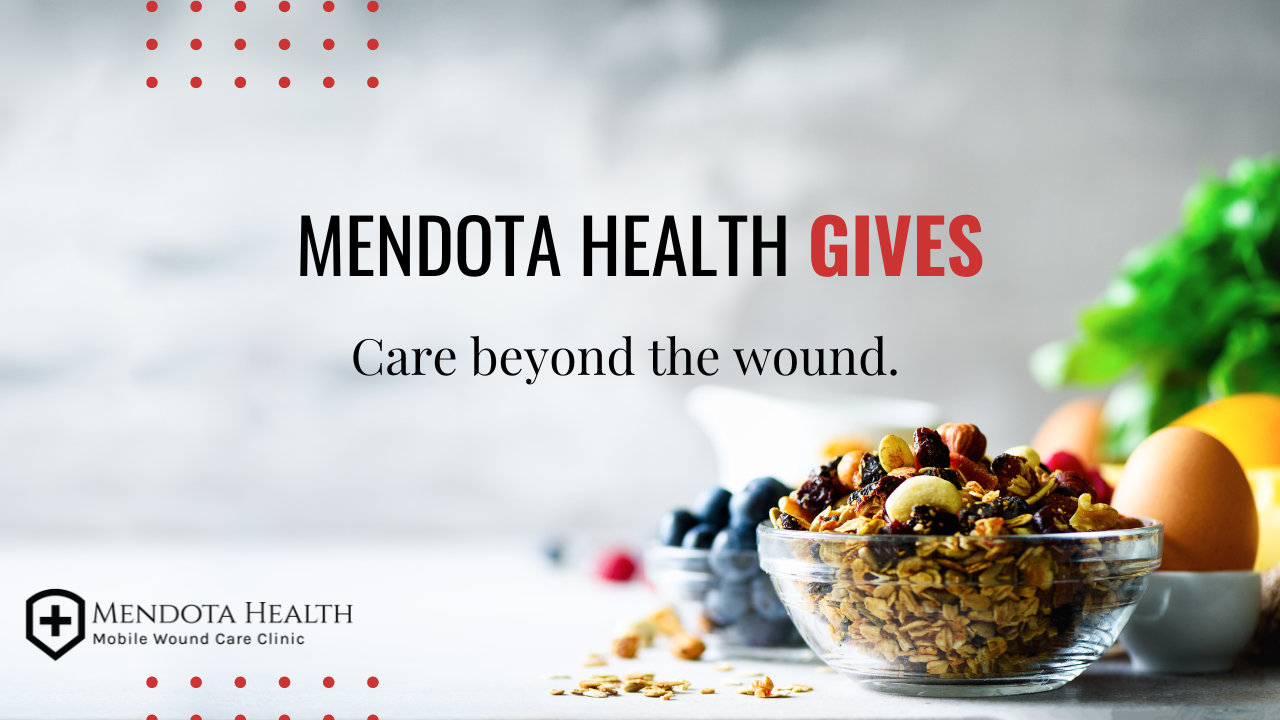 07 Nov

Fight to End Hunger- Mendota Health Gives

Join the Mendota Health team in fighting hunger in America. More than 34 million people, including 9 million children, in the United States are food insecure.

Mendota Health was founded on the notion that people deserve access to the best wound care possible. And the way to ensure people have access to wound care is to bring it into people's homes through a mobile wound care clinic. Creating access to the resources to live a life of vitality is paramount to who we are as a company. This November and December, Mendota Health is launching Mendota Health Gives- Care Beyond the Wound to support Feeding America. We know there is more than enough food to feed every American, no one should go hungry, and everyone should have access to the food they need to thrive.

Our goal is to raise $10,000. Mendota Health is matching every dollar donated up to $5,000! Help us unlock an extra $5,000 in hunger relief by donating today.

Every $1 donated helps provide at least 10 meals. It only takes a little to make a big difference. Will you help fight to end hunger?

We also know that good nutrition is essential in preventing wounds and healing wounds. If we want to curb the wound epidemic in this country then we need to work to address it at its source, and good nutrition is a part of that.

You can read all about nutrition and wound healing on our blog article Nutrition Basics for Wound Care at Home.

People who are food insecure are also at higher risk for developing wounds that won't heal. People with chronic wounds are more likely to have nutrient deficiencies than those without chronic wounds.
5 surprising facts about hunger in america
Here are 5 surprising facts about hunger in America from the new Map the Meal Gap study:
Hunger is higher among Black and Latino individuals compared to white individuals in 99% of all counties, and the COVID-19 pandemic worsened these pre-existing disparities.
Childhood food insecurity rates are staggering in some counties – many over 40 percent. Across the U.S., about 1 in 6 children experience hunger, but in some counties, like East Carrol Parish in Louisiana, half of all children are food insecure. 
People facing hunger report needing $44 more per month to meet their food needs. That's an additional $17.25 per week.
The South is home to 80% of counties across the country with the highest rates of hunger. 1 in 5 counties in the South have high food insecurity compared to 1 in 22 in the West and 1 in 29 in the Midwest.
One of every three people facing hunger are unlikely to qualify for Supplemental Nutrition Assistance Program (SNAP) benefits.
 
Read more at Map the Meal Gap study reveals surprising details about hunger.
You can join us in this campaign to fight hunger and food insecurity by donating today.