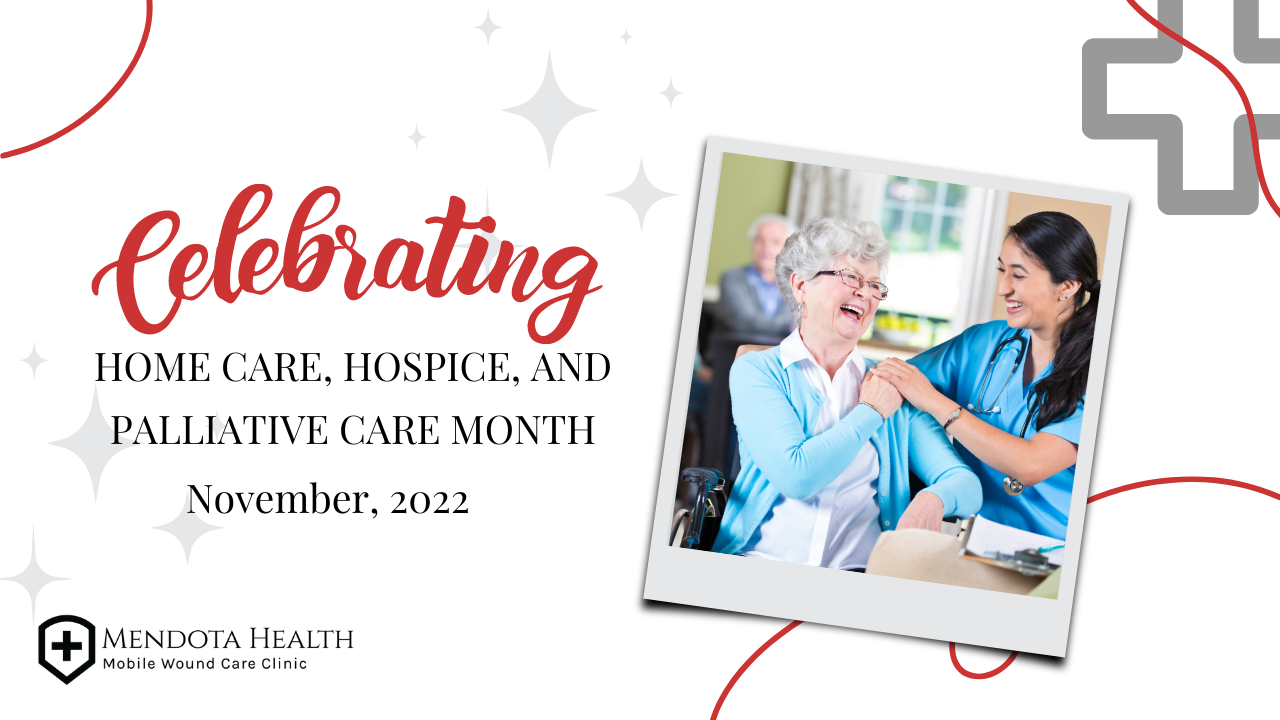 01 Nov

Celebrating Partners In Wound Healing

During the month of November, Mendota Health is celebrating the home care, hospice, and palliative care community. We are grateful for the nurses, home care aides, therapists, and social workers who make an incredible difference for patients and families they serve.

We work closely with these caregivers who are treating patients with complex wounds and witness firsthand their skill, compassion, and dedication to the individuals in their care. We are proud to work beside them to heal complex wounds and help restore the health and wellbeing of individuals.

"Home care" can encompass a number of different types of care.  
Home health care focuses on skilled care provided by licensed health care professionals. It might include nursing visits and care or different types of therapy, such as physical or occupational therapy.
Personal care services provided in your home focus on helping you with activities of daily living, such as bathing, dressing, or running errands, or housekeeping.
Hospice care is provided to people whose treatment can no longer cure or control their disease. People getting hospice care might have both home health care and personal care services.
advanced wound care and home care
Mendota Health is a specialty clinic that focuses on complex and hard to treat wounds. Home care agencies are important partners because their nurses and caregivers often raise the first warnings for wounds that are not responding to conventional treatments and need additional wound expertise to heal. When a home care agency refers to Mendota Health the patient continues to be seen by the home care team. Our nurse practitioners, who are wound experts, provide additional wound care above the conventional treatments delivered by home care nurses. When home care agencies work with us, the patient receives advanced wound care plus the continued care and wound management by their familiar and regular care team.
types of home care services
Nursing care
The most common form of home health care is skilled nursing care. Care plans are created in consultation with the doctor. Nursing care may include wound dressing, ostomy care, intravenous therapy, administering medication, monitoring the general health of the patient, pain control, and other health support.
Physical, occupational, and/or speech therapy
Therapy is ordered for patients in need of assistance relearning how to perform daily tasks. A physical therapist can put together a plan of care to help a patient regain or strengthen use of muscles and joints. An occupational therapist can help a patient with physical, developmental, social, or emotional disabilities relearn how to perform such daily functions as eating, bathing, dressing, and more. A speech therapist can help a patient with impaired speech regain the ability to communicate clearly.
Medical social services
Social workers look at social and emotional factors that impact people. For people with complex needs, they can find resources in the community. This can include helping the family look for financial help as needed. Some social workers are also the patient's case manager–if the patient's medical condition is very complex and requires coordination of many services.
Care from home health aides
Home health aides can help the patient with his or her basic personal needs such as getting out of bed, walking, bathing, and dressing. Some aides have received specialized training to assist with more specialized care under the supervision of a nurse.
Homemaker or basic assistance care
While a patient is being medically cared for in the home, a homemaker or person who helps with chores or tasks can maintain the household with meal preparation, laundry, grocery shopping, and other housekeeping items.