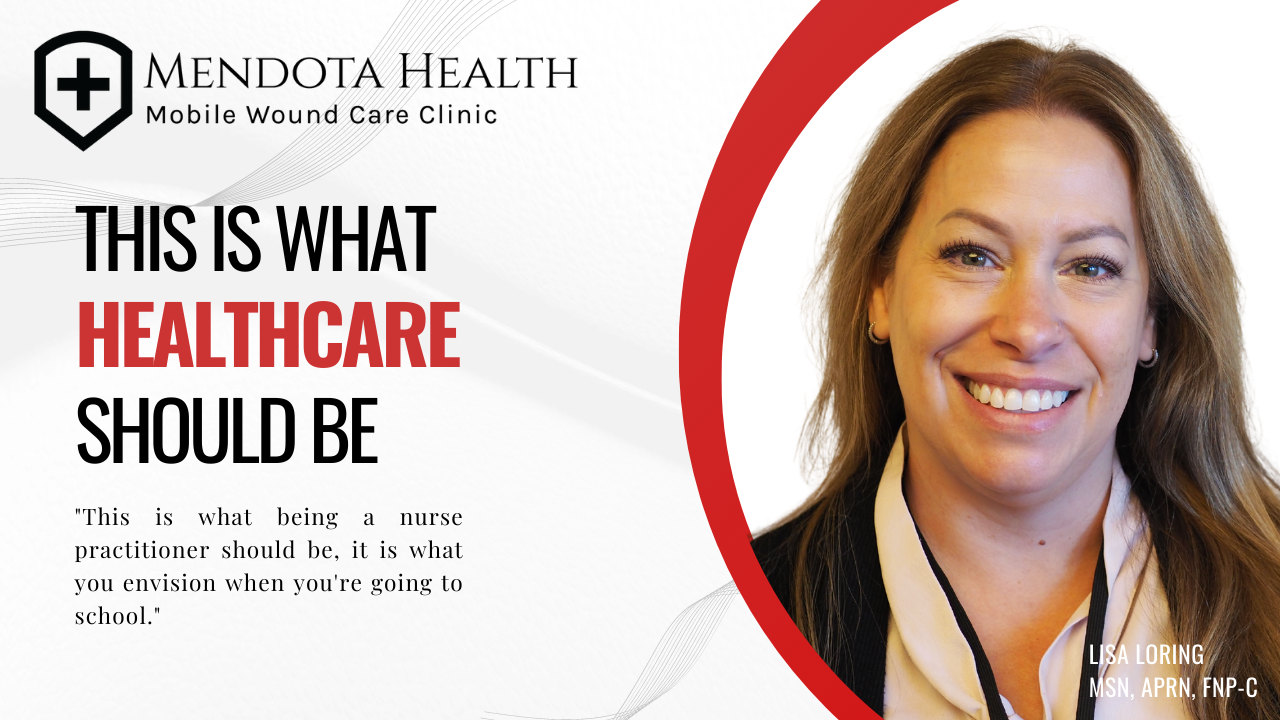 08 Aug

Healing Wounds as a Nurse Practitioner
The following is an interview with Lisa Loring who is a an advanced wound care nurse practitioner for Mendota Health.
Lee George:
Why wound care?
Lisa Loring:
I love it! In some of my previous jobs I didn't get to see the end point of my work. You'll see your patients briefly and then they go wherever their next level of care is. In wound care you usually can see it through until the end. And I see patients that have had wounds for years and have been suffering. They've had challenges like simply moving on their own. And then the relief they have when you're able to either get to a point where you know they can manage the wound, or to a point of healing it; it is the best feeling in the world!
Lee:
Is time with the patient the main difference between working in a clinic and doing in home wound care?
Lisa:
The big difference I see between clinic and in home wound care is the patients become like family. To a degree you can build a rapport with your patients in clinic, but you just don't have as much time. Your volume is more. In the home you have more time to be one-on-one and you can talk about things while you're doing the wound care.
When you are in the hospital it's sort of a sterile environment. But in the home, patients really do become your family. You're in their environment and now they're not just a patient. I like that they know I'm a person, that I love what I do, and they know I have a family too. We build a bond together. I have one patient right now, she always sends me home with a little chocolate bar for my daughter. It's sort of her way of saying thank you for helping her. I never say no because I think it gives her joy to do it. My daughter loves them, I have a freezer full of mini chocolate bars.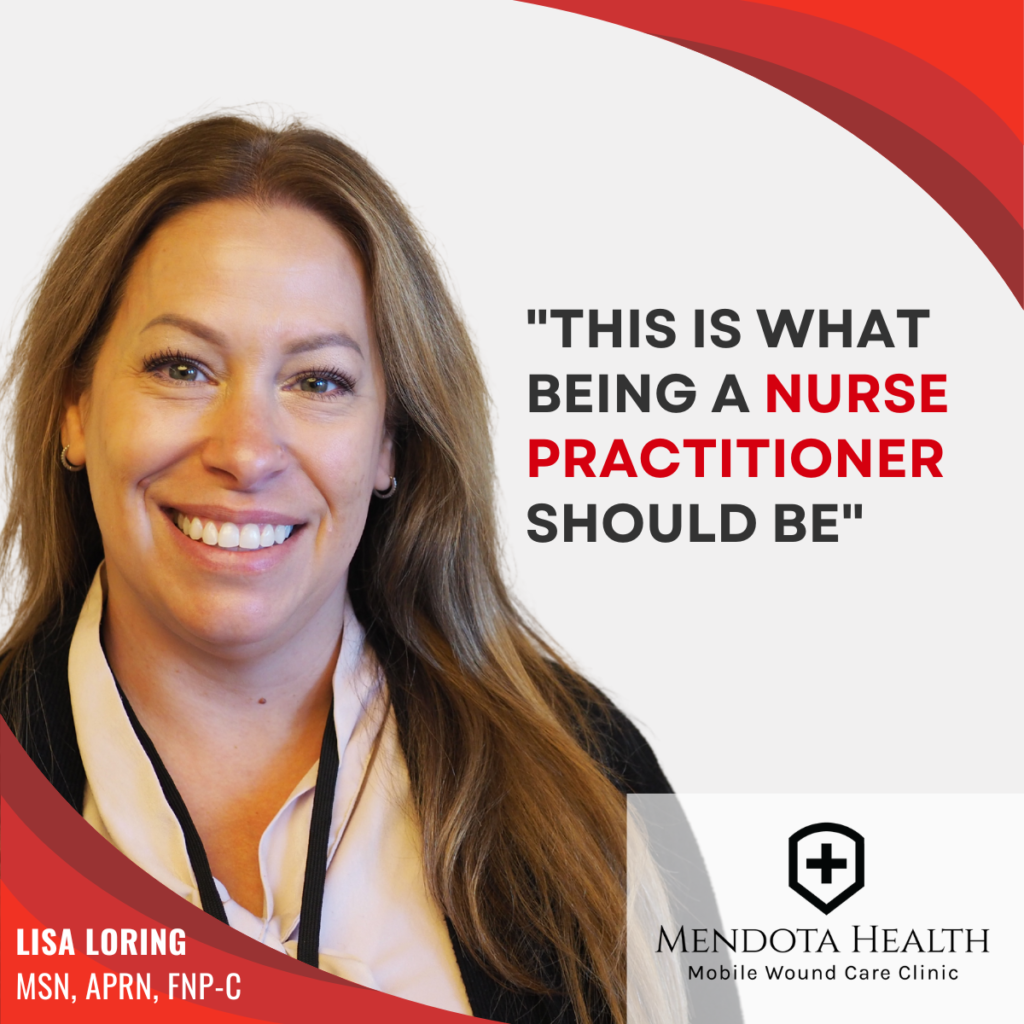 Lee:
How does your work with Mendota Health align with how you want to practice?
Lisa:
When I originally went to school for nursing, I went in thinking "I want to do this job because I want to care for people and like really help people". But when you get in the hospital system, or even into private medical practices, you quickly lose sight of that because you're expected to hold up a certain volume of patient visits, or you must get so much work done within a time frame. So, when I switched over to in home care, I realized that this is what healthcare is supposed to be. This is what being a nurse practitioner should be, it is what you envision when you're going to school. When you're going to school, you're thinking about how much you want to care for people and have a positive impact. I think in home care you have more of the ability to make that difference.
Lee:
Many patients that we see have had wounds for a long time and may be skeptical of having another provider treat their wounds. How do you overcome this hesitation?
Lisa:
I tell them just let me show you. It's all about confidence and having a positive attitude. I'll tell them, "I know you've tried everything before to heal your wounds but just let me show you, trust me". You have to let them know that you're a partner and a team with them. You're invested in their wound healing and we need their buy-in to make it happen. I think building rapport and that relationship just goes a long way to heal the wounds.
I have a patient that I've been seeing for maybe 10 weeks now, and he's had his wounds for six years. They're just about closed and even his wife says "in six years he's never looked that good!".
I love going every single week and I know I get to see a patient, take off the bandage, and the wound is almost gone! I always get so excited.
Lee:
 Is that most rewarding thing, actually healing a wound?
Lisa:
I don't think the most rewarding thing is healing a wound, I think it's the benefit that goes along with it. The benefit to the patient's quality of life. You know they have to deal with these appointments, this medical care, and all these burdens. They shouldn't really have to deal with it and it can be a huge cost and time suck for them. So it's rewarding just taking off that weight from their shoulders and from their caregivers too. A lot of times chronic wounds affect the caregivers as much or more than it does the patient. So lifting that weight for them is huge.
Lee:
What do patient's say about their future life free of wounds?
Lisa:
A lot of patients say "I can't wait to get back to church", or "I can't wait to go out to dinner with my family". Or patients are just excited to be able to get out of bed and get up in the chair and not have to worry about the dressing falling off or causing another wound. Towards the end, when the wound is healing, I really start to change my focus from getting the wound to heal, to more of how do we prevent this from happening again.
Lee:
Thank you Lisa for this interview and for all of the amazing work you do for your patients.
To learn more about Mendota Health and our national mobile advanced wound care clinic, visit our About Us page.